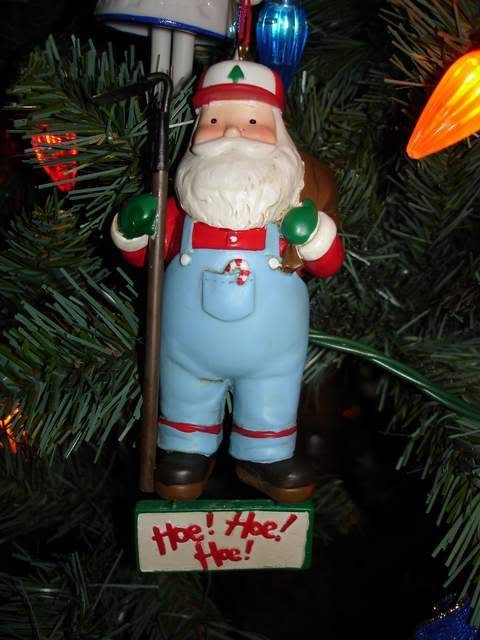 In case you've ever wondered, Santa is a Candian. I know this for a fact because I met him in person this summer while we were both shopping in Bronner's. And no, he wasn't dressed in his red suit, being pulled by 8 or 9 tiny reindeer, being escorted by elves, or even letting loose with a string of "Ho Ho Ho's". Nope, he and Mrs. Claus were quietly shopping right beside us in the biggest Christmas store on Earth.
Mrs. Claus looked like she had just stepped out of an illustration in a children's book. And the big man himself? He was wearing overalls, a red cap and workshirt, and hand to my heart, had a can of Coke in his back pocket. He is just as gracious on vacation as he is during the Christmas season. When he realized that our family was stalking him he removed his cap, being the gentleman that he is, bent down by the stroller, and spoke with the girls. He asked Hope what she would like for Christmas, promised to tell Rudolph everything she had said, and reminded her to be a good girl. I only heard bits and pieces of this because, well, me being me, was standing there crying. I do that alot don't I? ; )
We had no sooner told him good-bye when we walked around a corner, and Bronner's being Bronner's, spotted a Christmas ornament of Santa dressed almost exactly as we had just seen him! A picture of that ornament can be seen at the top of this post...or on our Christmas tree.
We ran into Mr. & Mrs. Claus at the checkout and we made sure we showed them the ornament. He got such a charge out of it. So how do I know Santa is a Canadian? Because when I showed him the ornament, after he had a hearty chuckle, he said, "Oh! I'm even wearing my coveralls, eh?!" So there...now you know...and even Santa himself shops at Bronner's!
You know...this time last year our emotions were all over the place. We FINALLY had our picture of Claire grasped tightly in our hot little hands...but that was about it. No travel dates...more paperwork mix-ups...and no baby for Christmas...again. I posted the lyrics to "Merry Christmas" by Third Day...and cried some more. I played the song the other day and as soon as I could stop crying (again) I held both of my girls tight enough to stop all of our breathing. This year I'm posting the lyrics again. This year...they have a whole different meaning. For Claire, Sarah, Rilee, Jenna Li, Josie, Ella, Faith, Violet, Meilynn, Baby Hopie, and all of the many other precious China babies who made their way home to their forever families in 2007...I wish you Merry Christmas.
Merry Christmas
By Third Day
There's a little girl trembling on a cold December morn
Crying for mama's arms
At an orphanage just outside a little China town
Where the forgotten are
But half a world away I hang the stockings by the fire
And dream about the day when I can finally call you mine
It's Christmas time again but you're not home
Your family is here and yet you're somewhere else alone
So tonight I pray that God will come and hold you in His arms
And tell you from my heart
I wish you a Merry Christmas
As I hang the tinsel on the tree and watch the twinkling lights
I'm warmed by the fire's glow
Outside the children tumble in a wonderland of white
And make angels in the snow
But half a world away you try your best to fight the tears
And hope that Heaven's Angels come to carry you here
Christmas is the time we celebrate the Holy Child
And we celebrate His perfect gift of love
He came to Earth to give His life and prepare a place for us
So we could have a home with him above
It's Christmas time again and now you're home
Your family is here so you will never be alone
So tonight before you go to sleep, I'll hold you in my arms
And tell you from my heart
I wish you a Merry Christmas