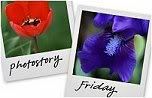 Soooo...I'm pretty particular about my Christmas tree. One could say obsessive...or compulsive...or anal. I want it just so...don't bother me while I'm working on it. It takes me at least two days to get all of the ornaments on...and where I want them. And yes, I have been known to move ornaments at least a dozen times before I'm satisfied. With over 200 ornaments...probably closer to 300...it does take awhile before I'm happy. I've found that through the years I put the same ornaments in the exact same places. It's not that I start out to do it that way it's just the way it turns out. Garry has even commented on it. "Oh! There's x ornament...that means that y ornament should be right over there!" He's right. So, this year, I tried VERY hard to mix things up. I'm starting very slowly though...and I had to stop myself from putting several of them in the same place. I have NOT however, gone back and moved any of them. I consider my experiment a success! When I'm down to the last drawer or so of ornaments I've found that I'm absolutely HATING the entire thing. The tree looks like a giant mess...too crowded here...giant gaping empty spots here. I literally toss the last ones on and race from the room vowing never to look at the thing again until I take it down in a month. And yet, the same thing happens each and every year. I walk past the living room...it's dark...the lights are twinkling...and I catch my breath. It is as if I'm a child again on Christmas morning...the tree...that tree...*my* tree...is the most beautiful thing I've ever seen.
You may or may not have been listening to the song I've chosen for this post, "When My Heart Finds Christmas" by Harry Connick, Jr. You can either turn it on or off...or up or down...by going to the bottom of this post. This CD...and especially this song...is what I listen to when I'm decorating the tree.
Garry and I don't have a whole lot of warm fuzzies where our childhood holidays are concerned. I would (and still do) go off the deep end trying to make up for it and he just tried to ignore it for a lot of years. I'm thinking he bought the CD in the early 90's and shortly thereafter told me that his heart had found Christmas...with me. Wow...that still makes me cry. Taking a deep breath and continuing...
I would like to share some of my most special ornaments with you...those that help my heart find Christmas...each and every time I see them.
In my eyes are valentines
And Easter eggs and New Year's wine
But when my heart finds Christmas
My eyes will shine like new
We purchased this on our anniversary in 2003 at the same time we bought the new fakey tree. Three weeks later...after waiting for years...we received our first pictures of Hope. Then several Christmases later I was hanging it on the tree...sobbing. I just couldn't go through another Christmas without any news of Claire. The day after I hung it? We had her picture. This special charm hangs at the very TOP of our tree.
This is "Birth Mama". We bought her on a visit to
Bronner's
about a month before we received Hope's referral. She is a symbol of where my girls came from...and the sacrifice that their birth mamas have made for them. I will NEVER forget 22 month old Hope standing at the base of the Christmas tree, sucking her thumb, and saying, "I love you Birth Mama." Never.
She's home! She's ours...and she's HOME! I ordered this from
Mandy's Moon
. I've ordered A LOT from Mandy's Moon. Drop by and tell Laurie, "Mel sent you."
All the days are kind to me
But fall too far behind to see
But when my heart finds Christmas
I hope it finds you too
This one is perhaps, out of all the ornaments I own, the most bittersweet. I ordered it from Mandy's Moon shortly after all of our paperwork left for China in August 2005. If you've been following my blog for any amount of time, you know that this ornament hung on our refrigerator when it wasn't on our tree...for two years.
This one has another spot of honor near the top of the tree. If you look closely, you will see that the snowmen are actually made from Hope's handprint. She made this in preschool last year. It is one of my most precious treasures.
Let the angels sing around us
Christmas time is here
Let our children's love surround us
Laughing and filled with cheer


Yet another ornament purchased with hope in our hearts. We bought this Hallmark ornament dated 2006 praying that Claire would be home to see it. You may remember that I had chosen "Baby Mine" from Dumbo to be Claire's lullaby? She was not home at Christmas 2006...but she was here a month later!
Claire's first Christmas with us was marked with this precious little bauble from again, Mandy's Moon.
Our first family ornament! We purchased this one in 2007 on another trip to Bronner's...that ALL FOUR OF US MADE! ")
My heart told me once before
To find my dream and search no more
And when my heart finds Christmas
I hope it finds you too
So you see dear readers...I've listened to my heart. I've found my dream...I'm living it...every single day of my life. My search has ended.
Have a blessed Christmas!
All lyrics in italics by Harry Connick, Jr.
Wow...can you believe it? A TITLE! After 135 posts...a title. Yeah, well...don't get used to it. I wanted to participate in Photostory Friday and it's just easier with a title! ")