Picture time! Yeah...don't get too excited yet!
This first picture is the lobby decorated for Chinese New Year at the Holiday Inn Downtown Beijing. Garry and the group stayed there while touring Beijing. You can check out the hotel's website
here
.
The next shot is from The Great Wall. Garry says it was still pretty cold and now the vendors are becoming more agressive. Instead of just shouting "HALLO!" to get your attention, they will come up and pinch you. Gee, the worst thing I had happen was when one of them wrapped a scarf around my face...that had been wrapped around heaven only knows how many other faces! SARS anyone? ")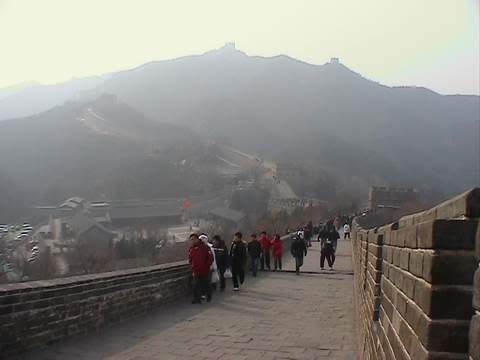 Garry reports that lunch at the cloisonne factory was worse than last time. My apologies to Kristian and John who enjoyed it immensely! However, the story of the dead fish having its spine ripped from its body and then tossed into the brown sauce did nothing for my appetite. I believe that picture is posted on Kristian's blog. Garry said there was no way he was eating anything that looked like it had been run over by a bus! LOL I remember eating well (for me in China) at the cloisonne factory. There were lots of recognizable vegetables in mild sauces...it was yummy.
Tiananmen Square was "Great Wall Cold". For those of you who don't get that weather reference, when we went to China to get Hope we visited The Great Wall. We had dressed warmly as it was in the low 40's and very windy. I had lost all sensation in my mittened hands before we even got to the ENTRANCE. For all intents and purposes it felt like I had forgotten to get dressed! Neither one of us have ever been that cold before or planned to be again...until Garry visited Tiananmen Square for the second time. He said that there are Olympic signs everywhere and that a great portion of The Forbidden City is closed off for refurbishing. Have to make everything pretty for the olympics! He said certain areas were covered with a screen/net type deal. However, the screen/net was painted exactly like what was behind it so you didn't feel you were missing anything. My memories of The Forbidden City? Let's walk the length of this place as quickly as possible, get on the bus and go get our baby! ")
He also made return trips to The Hard Rock Beijing, the Chinese Acrobats performance, and the silk factory. And yes, for those of you who remember, he learned again about "The pupers! Yah!" Only THIS time everyone was given a "puper" of their very own. One stop that was new for him/us was a jade carving workshop. I had sent a list...a rather long detailed list (LOL)...of things I wanted him to buy while there. One of those requests was a small jade figurine for each of our Chinese zodiac signs. Got 'em...check...next!
He called this morning to let me know they had safely arrived in Chongqing. For those of you who work with him, I'm sure you won't be surprised to hear that "Sarcastic Guy" has put in an appearance. I don't know if it took him this long to acclimate or this morning was just the first time he's told me about it. The group is staying at The Marriott JW Chongqing for the next few days.
He said that the bathroom was pretty impressive...separate shower and tub. He also said that the group isn't staying together. Meaning, when we went the first time everyone was on the same floor and right next to each other. This trip, a lot of different floors. When he called this morning he was waiting for the staff to deliver his luggage. As soon as they did he was going to unpack the gifts for the orphanage staff and deliver those, along with the dreaded moneybelt to Zhou's room. Getting rid of the dreaded moneybelt is only slightly less exciting than receiving your baby. It is HIGHLY stressful toting around thousands of dollars strapped to your person.
So! Tomorrow is Gotcha Day! I've had several people ask me how I'm holding up and wondering how I'm going to get through tomorrow. Folks, I'm fine. Right now I'm more than fine. I'm downright happy. My baby is going to be placed safely in her father's arms in a little over 13 hours. I'll be able to see pictures...I'll be able to hear her over the phone. It may not be the ideal situation, or the one we all had planned out in our minds, but right now it sounds like paradise. I believe Garry is the one who is going to need some help. The babies don't arrive until 4:30 in the afternoon. I'm afraid he's going to be climbing the walls by that time. He'll call tonight...which will be his tomorrow morning...and then the next time he calls he'll have Claire! Hey Cheri...I'm kind of feeling the excitement finally! And Bon? NOW I'm seeing the light at the end of the tunnel.
One of my very favorite movies is Miracle on 34th Street. I discovered it as a child and have loved it ever since. It is filled with so many beautiful little pearls of wisdom. For Christmas this year, Garry bought me one of those Hallmark cards with the sound chips in them...you know...they play a bit of music or a sound bite? On the cover is a picture of Edmund Gwenn, dressed as Santa. Below him is a lamppost supporting the street sign that reads "W 34th ST". Below that is the sentiment "May you always believe..." Beautiful in and of itself. However, when you open it you hear little Natalie Wood's voice...so loud and clear and so full of joy saying, "Mommy told me if things don't turn out just the way you want them to the first time you still got to believe! And I kept believing and you were right Mommy! Mr. Kringle IS Santa Claus!"
I wept when I opened it on Christmas morning and I'm weeping now. For our family, Santa comes tomorrow.
Blessings and peace to y'all.